a terrible-beautiful dream
In the street of a small rural town, surrounded by milling people, I was assisting with the lighting of candles.  These candles were then placed inside translucent papier-mâché balloons.  Some were no more than small paper bags clasped tightly in both hands above the head.  Others were slightly larger and attached to fragile wicker frames one could uncomfortably crouch within.  Once each person made the tremulous decision to ascend, they would grasp hold of these improbable contraptions and be lifted high into the air.  The blue sky was soon filled with a hundred or more.  Later, the candle light of each soul flickered impossibly high in a deep night sky.  These pinpoints of light converged or drifted apart in random movement on the still night air; a gathering of fireflies in the complete blackness of a starless night.
With a quick tremor of fear, I thought, "The candles will soon burn out!'" No sooner had this thought come to me than the first of the lights was extinguished and the body of that soul plunged to earth.  Soon more and more were falling.  Two lights came together, were extinguished, and the two fell as one.  From the vantage point of a bird poised just above them, I saw four who had come together.  Their bodies, intertwined, fell rapidly away from me, disappearing into a foggy, obscuring blackness to perish on the desert floor far below.
Standing upon a small hill, gazing up at the few lights left flickering in the sky, I sensed with dread the bloated and decaying corpses that in the darkness surrounded us.  To the man standing next to me I said, "When daylight comes there will be bodies to collect and bury."
This morning I am contemplating how we humans, awkwardly tangled in dreams of salvation, struggle to lend meaning to a physical world that is most often brutally indifferent.  It may be that the one thing of substantial power left to us is our own imagination.
As a painter, I grew up seeing the world through the prism of art.  As clear and true a prism as any other, art elevated me above the poverty of my everyday existence and conferred upon my life a spirit charged with potential.  That potential seemed to explode onto the public stage on March 3rd of 2005 with a one-man show at New York's Lincoln Center and the premier of the film Off The Map.  In this very special movie, the story of which is, in part, about a man's transformation from lost soul to artist, my paintings play a significant and pivotal role.  Though I am forever grateful to the films director, Campbell Scott, for the opportunity to be a part of his exceptional project, out of it came some surprising and devastating personal consequences that left me shaken to the core and in doubt of all I had once taken for granted. Two months after its release, I sold my home and studio and, with a profound sadness, abandoned all ties to the place I'd called home for 25 years.  With only the vaguest of plans and no idea of what was next required of me, I thrust myself out onto the highway in one last desperate reach for clarity.
Originally these stories, posted online at livejournal.com, were intended simply as a travel log to keep friends and family informed of my whereabouts.  The writing and rewriting of them soon became an integral tool in my quest for understanding, healing, and redemption.
This is a true telling of a decisive moment upon which my world turned and, as such, it is a bridge.  There will always now be that which came before and that which followed.  This bridge is for my father.  He never had the opportunity to make his own crossing, but through his music, despite his hard life, he bequeathed me the desire and faith to dream.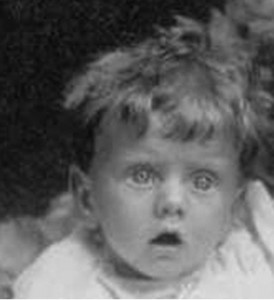 Herbert Anthony Berning
1915 – 1965