Studio and Exhibition Space by appointment :
54 1/2 East San Francisco St. Santa Fe, New Mexico 87501
928-460 2611 / stan@stanberning.com
Stan's paintings are on view in Santa Fe at :
Mill Contemporary
702 1/2 Canyon Road at Gypsy Alley
info@millcontemp.com / 505-983-6668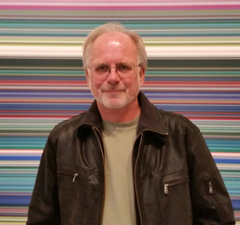 Mr. Berning, a resident of Santa Fe since 1981, is a well known artist, author, teacher, and former gallery owner .  His works have been exhibited in such diverse locations as San Francisco, Paris, and New York's Lincoln Center.  In 2005 his paintings became the focus of the film OFF THE MAP starring Joan Allen and Sam Elliott.  Also in 2005 he began a year long journey up the west coast of North America.  Experiences during this time became the foundation for his memoir about art, which was written over the next three years.
Evocative of the New Mexico landscape with its sweeping vistas and ever changing light, these most recent oil, egg tempera, and watercolor paintings are the result of a ten year process described in the entry "A Figurative Derivation".
……….
ART BOX was opened in August of 2015 as an exhibition space for one-off installations by emerging and established artists and a tool to introduce new videos produced by In The Studio Productions.  When not in use it becomes an extension of Stan's studio.
……….
Featured here are his newest paintings, a brief bio, the first chapter of about art, a museum presentation written in 2011 titled "A Figurative Derivation", an overview of ART BOX and this years exhibition schedule.
A Brief Bio    http://stanberningstudios.com/stan-berning-bio-2014/