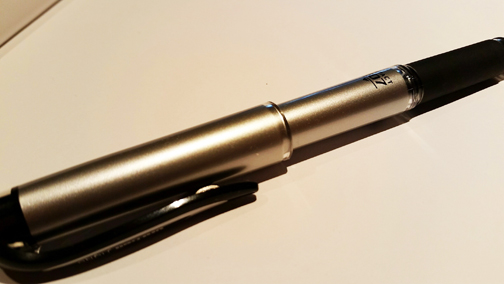 Excerpts
In my youth, (meaning before I turned fifty), I would sit for hours each morning at the breakfast table guzzling coffee, chainsmoking cigarettes, and writing in my ever present journal.  I was an extremely thin, intense, and introspective chimney.  With my hair now kept moderately short and the desire for a cigarette permanently erased from my memory, the one thing remaining from those heady days of nicotine fueled self importance is my journal.  If gathered together, these journals would fill a generously sized bookshelf.  Mostly they add up to little more than a simple accounting of each days events, but over the years I have learned to depend upon this narrative for perspective and some degree of insight.
In times of crises, when everything depended upon the understanding I could bring to that moment, the writing could become nearly incandescent with meaning.  For these brief periods of time I would become a writer.  Looking back, I find in these sometimes extended periods of literary clarity the same rich brevity of language, awareness of form, and truthfulness of spirit that is fundamental to my precise and elegant abstractions.  In this way these two mediums of expression have grown to reinforce each other, each becoming part of a whole.
I am presenting here, for the first time, a sampling of this writing with links to the complete dialogue.
……….
A Figurative Derivation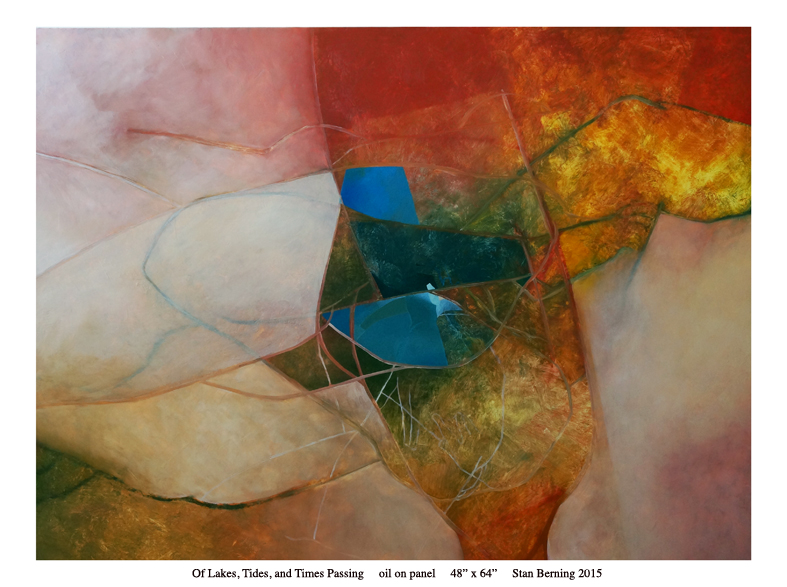 This is a show proposal I prepared for a museum specializing in the figurative arts.  I imagined this to be the foundation for a catalogue raisonné
……….
"The medium in which I first discovered my voice was watercolor.  This fluid paint, rich in the mythos of unintended consequence, taught me to believe in the accident as a tool to enlightenment and forward progress.
"As a young man, just arrived to New Mexico, I drove for Pony Express, a courier service.  My route took me between Santa Fe, Los Alamos, and Espanola at all times of the day and night and through all seasons and weather.  In the triangle between these three cities lies a geology forming one of the most beautiful places on earth.  As I drove I would come upon constantly changing natural visions of cloud, desert, mountain, and sky.  I practiced memorizing those rapidly disappearing vignettes.  Taking them home with me, I would then try to paint them.  While studying the layering of a mist — a horizontal band of white and gray turned pinkish in the early morning light and as seemingly substantial as the earth itself with the peaks of the Jemez Range sitting firmly above and upon it, the golden autumn cottonwoods along the Rio Grande river meandering below — my permeable subconscious was plumbed to its depths as spaces were rearranged within my chest.  The experiences of those drives, reinforced and made indelible by my exercises in memory and visualization, have continued to influence the work I create, making possible many of the stacked spacial arrangements of my architectural series and guaranteeing even my most nonrepresentational work's impulse towards the majesty of the landscape.  Twenty years later the late days of the high summer of my career would find me in a 2000 square foot studio in Santa Fe, NM."
……….
about art
The writing of this novella occupied three years of my life.
Soon after self-publishing, "about art", I was sitting in a restaurant in Prescott, AZ when an acquaintance asked me about the book.  I handed her a copy while I ran to the restroom.  When I returned the book was sitting on the table as far away from her as possible.  She looked at me as if I had presented her with a snake and said,  "I want to hear your views on art, Stan.  I don't want to fall in love with you!."  By far, this is the strongest negative response I have ever gotten to a quick perusal of my work.  Be warned, all of this is personal.
…..
Chapter One
a terrible-beautiful dream
In the street of a small rural town, surrounded by milling people, I was assisting with the lighting of candles.  These candles were then placed inside translucent papier-mâché balloons.  Some were no more than small paper bags clasped tightly in both hands above the head.  Others were slightly larger and attached to fragile wicker frames one could uncomfortably crouch within.  Once each person made the tremulous decision to ascend, they would grasp hold of these improbable contraptions and be lifted high into the air.  The blue sky was soon filled with a hundred or more.  Later, the candle light of each soul flickered impossibly high in a deep night sky.  These pinpoints of light converged or drifted apart in random movement on the still night air; a gathering of fireflies in the complete blackness of a starless night.
With a quick tremor of fear, I thought, "The candles will soon burn out!'" No sooner had this thought come to me than the first of the lights was extinguished and the body of that soul plunged to earth.  Soon more and more were falling.  Two lights came together, were extinguished, and the two fell as one.  From the vantage point of a bird poised just above them, I saw four who had come together.  Their bodies, intertwined, fell rapidly away from me, disappearing into a foggy, obscuring blackness to perish on the desert floor far below. 
Standing upon a small hill, gazing up at the few lights left flickering in the sky, I sensed with dread the bloated and decaying corpses that in the darkness surrounded us.  To the man standing next to me I said, "When daylight comes there will be bodies to collect and bury."
This morning I am contemplating how we humans, awkwardly tangled in dreams of salvation, struggle to lend meaning to a physical world that is most often brutally indifferent.  It may be that the one thing of substantial power left to us is our own imagination.
As a painter, I grew up seeing the world through the prism of art.  As clear and true a prism as any other, art elevated me above the poverty of my everyday existence and conferred upon my life a spirit charged with potential.  That potential seemed to explode onto the public stage on March 3rd of 2005 with a one-man show at New York's Lincoln Center and the premier of the film Off The Map.  In this very special movie, the story of which is, in part, about a man's transformation from lost soul to artist, my paintings play a significant and pivotal role.  Though I am forever grateful to the films director, Campbell Scott, for the opportunity to be a part of his exceptional project, out of it came some surprising and devastating personal consequences that left me shaken to the core and in doubt of all I had once taken for granted. Two months after its release, I sold my home and studio and, with a profound sadness, abandoned all ties to the place I'd called home for 25 years.  With only the vaguest of plans and no idea of what was next required of me, I thrust myself out onto the highway in one last desperate reach for clarity.
Originally these stories, posted online at livejournal.com, were intended simply as a travel log to keep friends and family informed of my whereabouts.  The writing and rewriting of them soon became an integral tool in my quest for understanding, healing, and redemption.
This is a true telling of a decisive moment upon which my world turned and, as such, it is a bridge.  There will always now be that which came before and that which followed.  This bridge is for my father.  He never had the opportunity to make his own crossing, but through his music, despite his hard life, he bequeathed me the desire and faith to dream.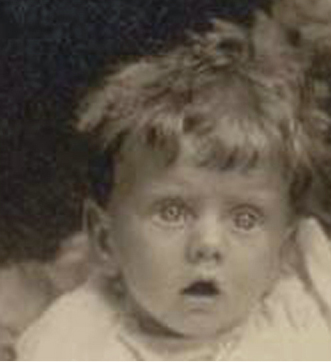 Herbert Anthony Berning
1915 – 1965
……….
letters and notes – Hieronymous Bosch's "The Garden of Earthly Delights" / Tatiana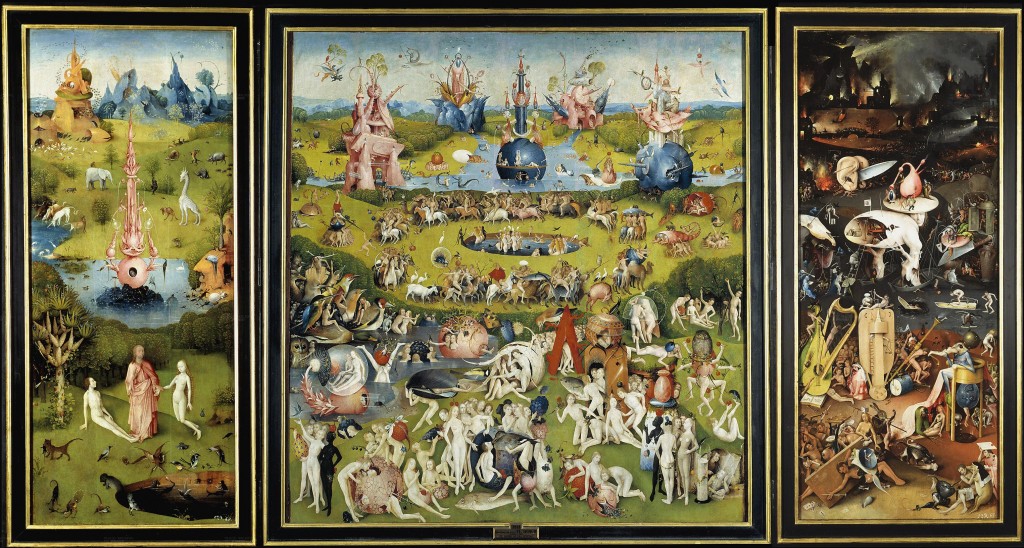 a short bit on art and subversion.
…..
"In 1959 I was 8 years old.  Though I did not know it at the time, soon the library in which I sat would be torn down, to be replaced by a gas station.  All the books would be moved to a larger, more contemporary building of lower ceilings and better light; a building that has since been replaced by a newer building of even less character than the second.  It amazes me how these bodies of flesh and bone we inhabit, these bodies that pump blood, bruise, heal, and sometimes hold their injuries hidden for years, outlast the brick and mortar that seem so much less flexible and, to the touch, appear convincingly more permanent than ourselves."
……….
An Artists Statement 2017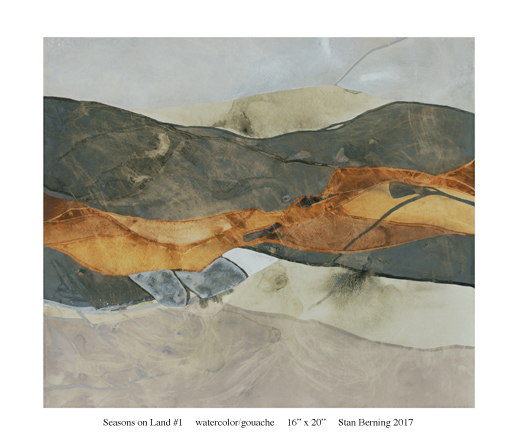 Finally, after a lifetime of painting, an understanding of its historical context.
…..
"Being a painter, I was born in 1951 already an antique.  After a lifetime of creating images in this post modern world I have come to champion no ism's.  Taking to heart my eighty year old friend's reminder that his generation made sure everything had been done, I have proceeded to do everything in each painting.  The resulting twelve oil paintings, though inevitably stamped with my distinctive aesthetic voice, travel freely through various fields of exploration.  Accepting that the act of working in paint will result in the echo of vaguely familiar imagery from past painters has released me from the tyrannical demand for newness and, ironically, opened the process to a multitude of possibilities embodied in each individual painting.  If it has all been done before there is no territory worth defending.  One either stands on shifting sands, or swims."
……….